Step into a World of Magic and Wonder 
Welcome to a realm where magic and creativity converge! In a captivating collaboration, the talented journaling enthusiast Kia (KiaCreates) has joined forces with AMZ Deco to craft a wax seal stamp that embodies the essence of enchantment. Get ready to be spellbound as we introduce you to the "Magical Crystal Ball Wax Seal Stamp," a mesmerizing masterpiece designed to add sparkle and charm to your journaling and crafting adventures. Let us take you on a journey through the magical world of this unique wax seal stamp and discover its secrets.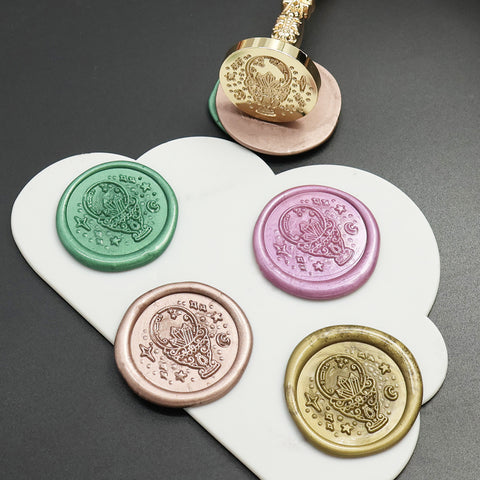 Unraveling the Magic: The Design
The heart of the "Magical Crystal Ball Wax Seal Stamp" lies in its intricate design. Featuring a delicate crystal ball resting on an enchanting pedestal, this stamp is a symbol of the mystical and the unknown. Inside the crystal ball, you'll find three magical Crystal ores and a constellation of twinkling stars, transporting you to a realm of mystery and wonder. The detailed patterns on the pedestal further enhance the sense of magic, while the surrounding stars create an ethereal ambiance that captivates the senses. Each element has been thoughtfully crafted to evoke a sense of awe and enchantment, making this wax seal stamp a true work of art.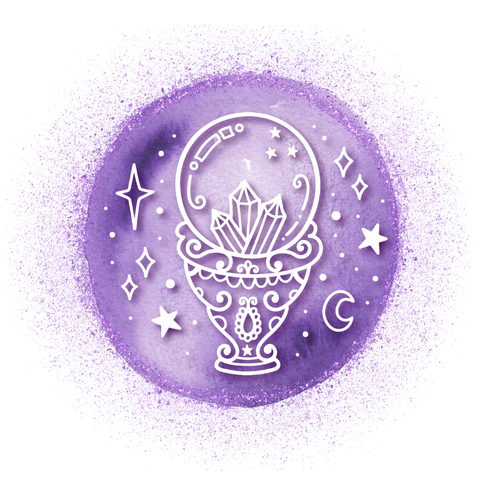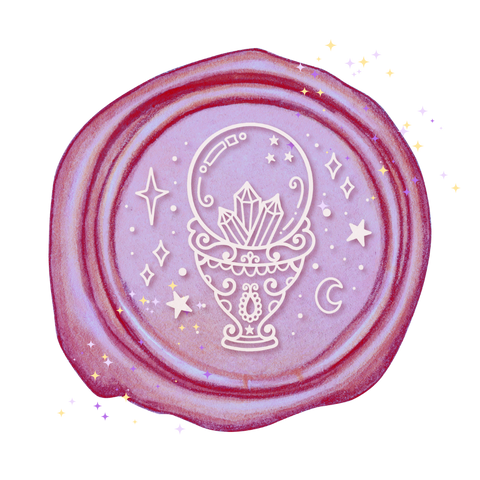 The Enchanting Journey: Kia's Vision
Kia's passion for magic and journaling inspired her to create something truly extraordinary. With a clear vision in mind, she embarked on the design of the "Magical Crystal Ball Wax Seal Stamp" - a creation that would capture the essence of enchantment in every impression. When she received the customized wax seal stamp from AMZ Deco, her excitement was palpable. Describing the stamp as "sparkly, witches, and wonderful," Kia's joy was evident, and her enchanting journey had come to life.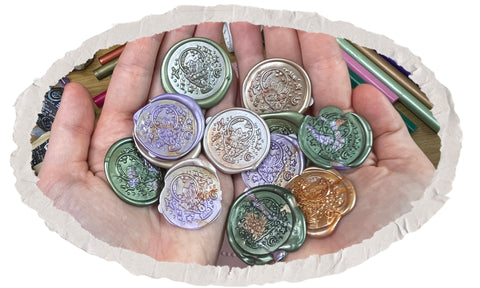 To infuse even more enchantment into the wax seals, Kia loves to use metallic highlighting ink. With a few magical strokes, the metallic ink adds shimmer and depth to the intricate design, creating a spellbinding effect. In her unboxing video, the stamp glistens and glimmers in the sunlight, just like casting a real spell. The result is nothing short of breathtaking, making each wax seal a true work of art.
Unleash the Magic: Elevate Your Creations with Enchanting Wax Seals 
Take your wax seal magic to the next level by pairing our stamp with enchanting stationery items that complement the theme. Add shimmering stickers depicting stars and magical elements, or use whimsical washi tapes featuring celestial patterns to further enhance the enchanting aura. Experiment with glitter powders and sequins to create a dazzling and mystical effect around your wax seals. The possibilities are endless, and with each combination, you'll create a unique masterpiece that transports you to your very own magical world.
Magical Crystal Ball Wax Seal Stamp is more than just a decorative tool; it's a portal to a world of enchantment and boundless creativity. Whether you're a seasoned journaling enthusiast or a crafting newcomer, this wax seal stamp promises to infuse your projects with an air of magic and wonder. Use it to adorn your journal entries, scrapbooking projects, greeting cards, and gift wrapping with an air of enchantment. Elevate your stationery with seals that shimmer and shine, or add a touch of magic to your wedding invitations and party favors. The Magical Crystal Ball Wax Seal Stamp is a versatile tool that will undoubtedly add a touch of wonder to any creative endeavor.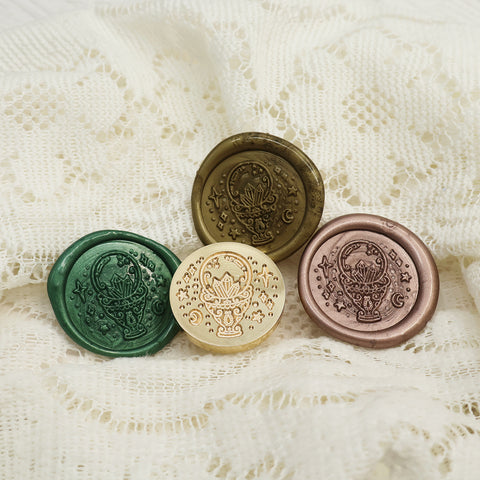 Embrace the Magic: A Special Thanks to Kia!
Before we conclude this enchanting journey, we want to extend our heartfelt gratitude to the magical mind behind the "Magical Crystal Ball Wax Seal Stamp" - Kia (@KiaCreates)! Her creative vision and passion for enchantment have brought forth a truly mesmerizing masterpiece that sparks wonder in every impression. The copyright of this captivating wax seal stamp belongs to Kia, making it a testament to her artistic brilliance and imaginative spirit.

At AMZ Deco, you can not only find the "Magical Crystal Ball Wax Seal Stamp" but also discover an enchanting selection of Magical Crystal Ball Wax Seal Stickers featuring the same captivating design. Elevate your creativity with these exquisite wax seals and add a touch of magic to your crafting and journaling projects. Create, journal, and delight in the wonders of your own enchanted world - it's all within your grasp.
Thanks to Kia's artistic brilliance, we now have a wax seal design that captures the essence of magic and adds a touch of whimsy to our crafting adventures. Now, it's your turn to step into the realm of enchantment and own your very own "Magical Crystal Ball Wax Seal Stamp." Head over to AMZ Deco now and make this magical masterpiece yours.